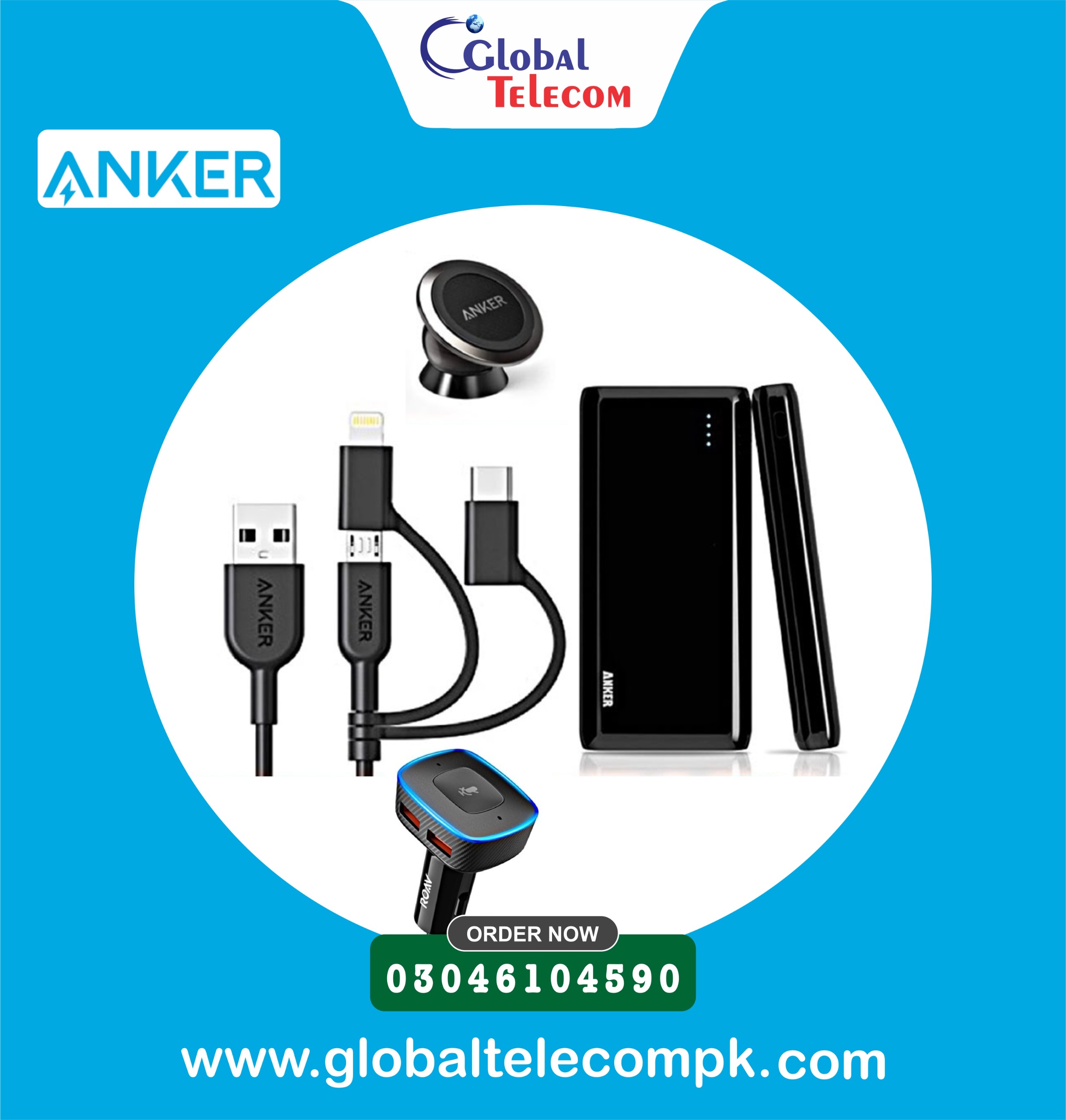 Anker, a market leader in consumer electronics, is extremely well-liked in Pakistan thanks to its high-quality accessories made to improve our everyday technological experiences. From portable chargers to audio gear, Anker has made a name for itself as a dependable company that provides creative solutions to typical technological issues. We shall examine the various Anker accessories that are offered in Pakistan in this piece, emphasising their characteristics and advantages.
Major Anker accessories in Pakistan:
1) Portable Chargers:
Anker's portable chargers, often known as power banks, are a must for Pakistani smartphone users. Your gadgets will remain powered throughout the day thanks to Anker power banks' range of capacities and quick-charging capabilities. Particularly the PowerCore series has garnered praise for its small size and excellent battery life.
Enough power is available from Anker's power bank's industry-leading output of 4.8 amps to fully charge any number of devices at once. You and your gadgets are protected by surge protection, short circuit protection, and other cutting-edge safety measures. improves grip and doesn't leave fingerprints or smudges
Additionally, additional Anker phone charger reviews claim that the company's ultra-powerful two-way charging is the greatest. It is equipped with the most recent Power Delivery 3.1 and cutting-edge bi-directional technology to quickly charge a portable charger or receive a 140W ultra-powerful charge boost.
2) Cables and Adapters:



Anker offers a variety of cables and adapters built to withstand daily wear and tear. Whether you need a USB-C to Lightning cable for your iPhone or a micro-USB cable for other devices, Anker ensures a reliable and fast charging connection. Their PowerLine+ series cables, reinforced with aramid fiber, are known for their durability.
3) Wireless Charging Solutions:
Wireless charging has gained popularity in Pakistan, and Anker has a range of wireless chargers to meet this demand. Their wireless charging pads and stands are compatible with a wide range of smartphones and offer fast and efficient charging. Anker's PowerWave series is known for its reliability and compatibility.
4) Audio anker accessories
The audio accessories offered by Anker are geared towards both music lovers and those who value crystal-clear call quality. Bluetooth speakers and headphones sold under their Soundcore brand are renowned for their excellent sound quality and durable batteries. Anker offers audio solutions to improve your experience whether you're at home, in the gym, or on the go.
5) Smart Phone cases and screen protectors:
Anker offers a range of cases and screen protectors made for various phone models since protecting your smartphone is crucial. These add-ons reliably shield the phone from drops and scratches without sacrificing its design or usefulness.
6) Anker accessories-Smart home products:
The product lineC of Anker has been expanded to include smart home appliances like smart plugs, security cameras, and LED lamps. These tools enable you to remotely operate appliances and keep an eye on your property, making your house more efficient and connected.
7) Anker accessories for laptops:
Anker provides a selection of accessories, including laptop stands, docking stations, and ergonomic mice, for laptop users in Pakistan. While working or studying on your laptop, these products are designed to increase your productivity and comfort.
8) Car accessories:
Anker has also entered the market for automobile accessories with items like Bluetooth car kits, dash cams, and car chargers. d differently, these add-ons improve your driving experience by offering practical options for staying safed differently, they capture significant moments on the road.
9) Customer suppport and warranty:
Anker's dedication to client satisfaction is one of the factors contributing to its success in Pakistan. Anker's customer service is renowned for its promptness and helpfulness, and its goods frequently come with extensive warranties. Customers that purchase Anker accessories can do so with assurance.
 Where to purchase Anker accessories in Pakistan:
In Pakistan, a wide range of online and offline merchants sell Anker accessories. There is a large selection of Anker accessories available on e-commerce sites like Daraz, Amazon, and neighbourhood tech shops. Additionally, the official Anker website lists Pakistani authorised resellers.



Conclusion:
In Pakistan, Anker accessories have come to represent excellence, dependability, and innovation. Anker offers a solution for you, whether you need a power bank to keep your gadgets charged on the move or a pair of Bluetooth headphones for rich audio experiences. Dedicated to ensuring customer satisfaction