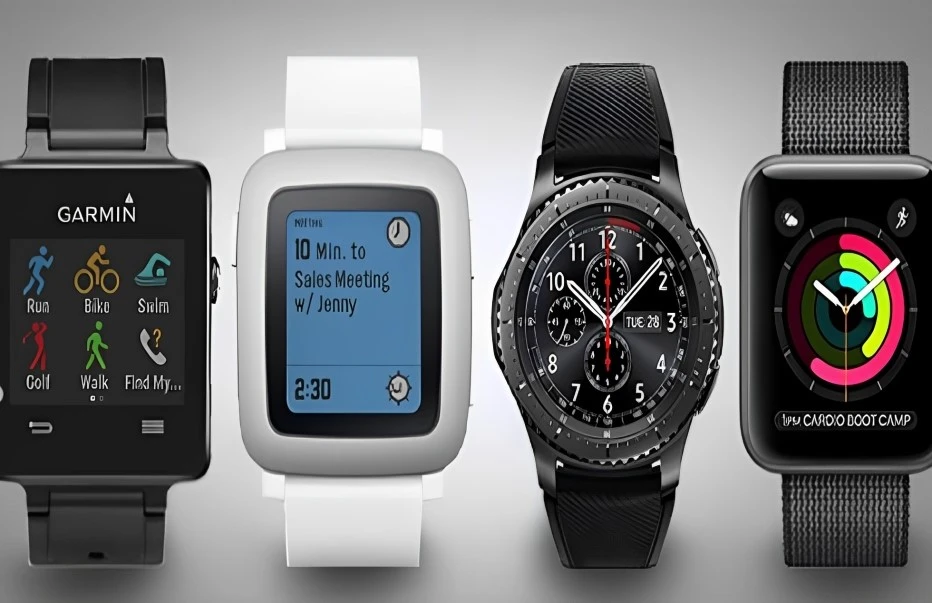 Smartwatches have become increasingly popular in recent years due to their convenience and functionality. With the rapid advancements in technology, it's no surprise that these wearable devices are becoming more sophisticated than ever before. As we look ahead to 2023, there are already some exciting smartwatches on the market that are sure to make a splash.In this article, we'll take a closer look at some of the best smartwatches of 2023 and what sets them apart from the rest.
Whether you're a fitness enthusiast looking for a watch that can track your workouts or a busy professional who needs access to emails and messages on the go, there is a smartwatch for everyone.
A brief overview of Best Smartwatches of 2023
As we approach 2023, the smartwatch industry is expected to continue its growth trajectory. These wearable devices have come a long way from their early iterations and are now considered essential accessories for many people. In this brief overview of smartwatches in 2023, we will look at some of the trends currently shaping the industry.
One of the most significant changes in smartwatches is their increased independence from smartphones. Many models can now operate as standalone devices with more advanced processors and better battery life. This means that users can make calls, send messages, and stream music directly from their watches without carrying a phone.
Another trend that is likely to gain traction in 2023 is health monitoring. Already popular with fitness enthusiasts, smartwatches are increasingly incorporating features like heart rate monitors and sleep trackers.
Best Smartwatches of 2023 Price in Pakistan:
If you are looking for the best smartwatches of 2023 at an affordable price in Pakistan, then globaltelecompk.com is your go-to destination and is best for online shopping. Here you will find a wide range of smartwatches from top brands like Apple, Samsung, Garmin, and more. These watches come packed with features like heart rate monitoring, GPS tracking, NFC payments, voice commands, water resistance and much more.
Apple Watch Series 9:
The Apple Watch Series 9 is one of the most highly anticipated smartwatches of 2023. With its sleek and stylish design, it is no wonder why this device has become a favorite among tech enthusiasts and fitness enthusiasts alike. The Series 9 offers a range of features that make it stand out from other smartwatches today.
One of the key features of the Apple Watch Series 9 is its advanced health monitoring capabilities. With sensors that can track everything from heart rate to sleep patterns, this device is perfect for anyone who wants to keep tabs on their physical well-being. In addition to health tracking, the Series 9 boasts an impressive array of connectivity options, including Wi-Fi, Bluetooth, and NFC.
Another highlight of the Apple Watch Series 9 is its compatibility with various apps.
Features and Improvements
Apple continues to revolutionize wearable technology with the Apple Watch Series 9. This latest iteration boasts many impressive features and improvements that make it stand out in an already crowded market. From enhanced health monitoring to sleek design, there is no doubt that this smartwatch can keep up with even the most demanding user.
One of the standout features of the Apple Watch Series 9 is its advanced health monitoring capabilities. With new sensors and algorithms, this watch can track your vital signs more accurately. It can detect irregular heart rhythms, monitor blood oxygen levels, and even track your sleep patterns – giving you unprecedented insight into your overall well-being. Additionally, the updated fitness tracking features allow you to set personalized goals and track progress toward achieving them – making it easy to stay motivated and on top of your fitness game.
Samsung Galaxy Watch 5:
The Samsung Galaxy Watch 5 is one of the best smartwatches of 2023. It comes with various features that make it stand out from the competition. The watch has an outstanding battery life that lasts for days, so you don't have to worry about running out of juice in the middle of your day.
Another excellent feature of this smartwatch is its ability to track your fitness goals and provide detailed reports on your progress. You can track your steps and calories burned and even monitor exercises like running, swimming, cycling, and more. This makes it perfect for anyone who wants to stay active and keep their health in check.
The Samsung Galaxy Watch 5 looks stunning and sleek in terms of design. It's available in various colors and styles to suit everyone's preferences.
Design and functionality
The Samsung Galaxy Watch 5 is the latest addition to Samsung's line of smartwatches, and it does not disappoint. The watch features a sleek and stylish modern and traditional design. The circular dial with a rotating bezel provides easy navigation through the watch's various features. It comes in 41mm and 45mm sizes, with different color options for each size.
In terms of functionality, the Galaxy Watch 5 has everything you need in a smartwatch. It tracks your fitness goals with great accuracy, monitors your heart rate, and even includes an ECG function for those who need it. It also comes equipped with Samsung Pay so you can make quick payments right from your wrist. With its long-lasting battery life and water-resistant capabilities up to 50 meters deep, this watch is perfect for anyone on the go.
Fitbit Sense:
Samsung has released its latest wearable device, the Galaxy Watch 5. The new timepiece is intended to compete with other smartwatches, including the Fitbit Sense. The Galaxy Watch 5 boasts an impressive set of features that will appeal to fitness enthusiasts and technology lovers alike.
One standout feature of Samsung's new watch is its built-in GPS functionality, which enables users to track their movements and workout progress accurately. It also offers continuous heart rate monitoring, allowing individuals to keep track of their heart rate throughout the day and during exercise sessions. Additionally, the Galaxy Watch 5 offers automatic workout detection for various activities, such as running, cycling, and swimming.
Another noteworthy aspect of this latest offering from Samsung is its compatibility with Android and iOS devices.
Health tracking capabilities
Health tracking capabilities are becoming increasingly popular among individuals who want to monitor their health and wellness. Thanks to technology, it is now possible to track various aspects of your health using various devices such as smartwatches, fitness trackers, and smartphone apps. These devices use sensors and algorithms to track your heart rate, sleep patterns, steps taken, and even stress levels.
One of the benefits of using health tracking capabilities is that it allows you to gain insights into your overall health. By monitoring your daily activity levels, for example, you can identify areas where you need to improve to lead a healthier lifestyle. Health tracking also helps you set goals and measure your progress over time.
Another advantage of using health tracking capabilities is that they can help detect potential health issues early on.
Garmin Venu 2:
Garmin Venu 2 is a revolutionary smartwatch that has overtaken the world. Released in 2023, it has quickly become one of the best smartwatches available today. With a sleek and stylish design, this watch is perfect for those who want to stay connected while looking great.
The Garmin Venu 2 has features that make it stand out from other watches in its class. It boasts a long battery life of up to 11 days, so you won't have to worry about constantly charging it. It also has built-in GPS and advanced health monitoring capabilities that track everything from your heart rate to your sleep patterns.
If you're looking for the best smartwatch of 2023, look no further than the Garmin Venu 2.
Garmin Venu 2: The Ultimate Sports and Fitness Companion
The Garmin Venu 2 is not just a smartwatch but the ultimate sports and fitness companion. With its advanced features, this watch is perfect for athletes, fitness enthusiasts, and anyone who wants to live an active lifestyle. From tracking your daily steps to monitoring your heart rate during workouts, the Garmin Venu 2 has got you covered.
This watch has more than 25 built-in sports apps that help you track various activities such as running, cycling, swimming, and many more. The watch also features advanced training modes that allow you to set customized goals based on your individual needs. Whether you want to improve your endurance or speed up your recovery time after workouts, the Garmin Venu 2 can help you achieve those goals.
Other notable mentions:
Since its release, Garmin Venu 2 has been making waves in the fitness industry. However, other notable mentions have caught our attention too. From smartwatches to fitness trackers, these devices have unique features that make them stand out.
First up is the Apple Watch Series 6, which is a popular choice among fitness enthusiasts. This smartwatch comes with various health and wellness features, including blood oxygen monitoring and an ECG app. It also has a range of workout-tracking capabilities and can track your daily activity levels. The Apple Watch Series 6 is functional and stylish, as it comes in various colors and bands to suit your personal style.
Another notable mention is Fitbit Sense, which offers advanced health monitoring capabilities such as stress management tools and skin temperature sensors.
Huawei Watch, Fossil Gen 7
In the world of smartwatches, two brands have consistently been at the top of the game: Huawei and Fossil. With the release of their latest models, the Huawei Watch and Fossil Gen 7, these companies are pushing boundaries regarding technology and style. Both watches offer a sleek design with impressive features that make them stand out in a crowded market.
One notable competitor to these watches is Garmin's Venu 2. While Garmin may not be as well-known for its smartwatches as Huawei or Fossil, it has carved out a niche in fitness tracking. The Venu 2 offers unique features specifically geared toward health enthusiasts, such as GPS tracking, heart rate monitoring, and guided workouts. However, regarding overall functionality and design appeal, both the Huawei Watch and Fossil Gen 7 hold their own against this popular brand.
Conclusion
The smartwatch industry has come a long way since its inception and is only improving with time. The year 2023 will be exciting for consumers looking to purchase a smartwatch, as there are many great options available in the market.
From fitness tracking to communication features, these watches offer a range of benefits worth investing in. Whether you are an athlete or someone who likes to stay connected on the go, there is a smartwatch out there for you.