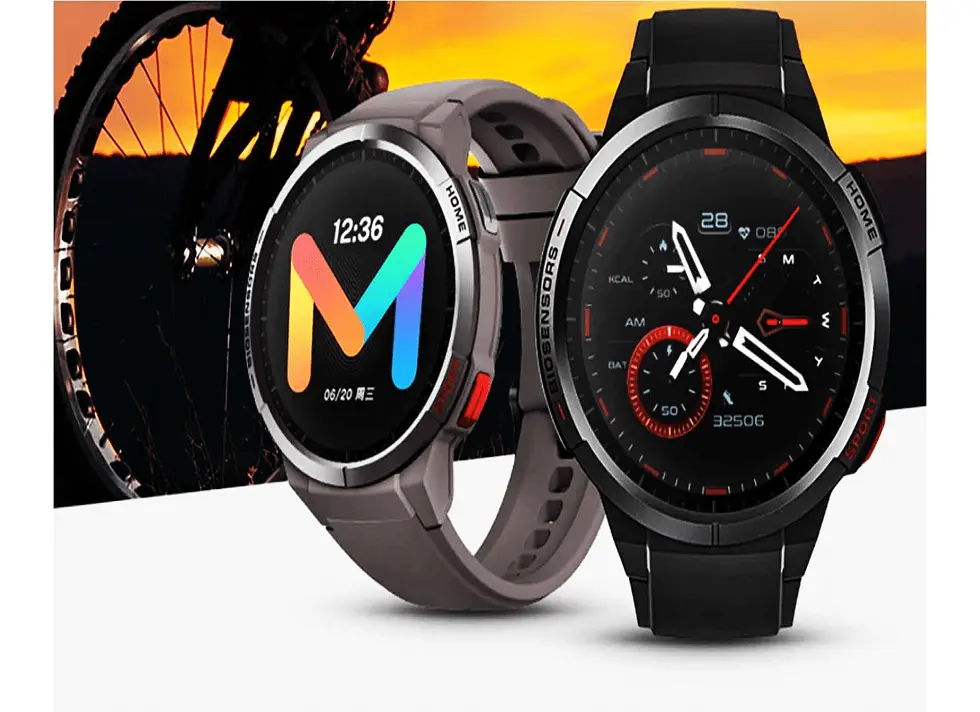 In Pakistan, Mibro is the most demanding brand regarding smartwatches and earbuds. This is mainly because of their quality, functionality, and pricing. Mibro smartwatches and earbuds have always been known for their high-quality products, and the brand's loyal customer base has helped make this true. The demand for Mibro products has also led the company to launch new lines that appeal to a wider range of consumers.
What are Mibro smartwatches?
Mibro smartwatches are the latest addition to the wearable technology market for those who want their fitness tracking with a side of style. These watches come equipped with a range of features, making them an excellent choice for anyone looking to stay connected and track their daily activities. With Mibro smartwatches, you can easily monitor your heart rate, blood pressure, and sleep patterns.
One notable feature of Mibro smartwatches is their compatibility with earbuds. The watch's Bluetooth connectivity allows users to pair it with wireless earbuds for hands-free music listening while on the go or during workouts. These watches also have water-resistant capabilities that make them ideal for swimmers or anyone who enjoys water-related activities.
Mibro smartwatches come in different models that cater to diverse needs and preferences.
What earbuds work with Mibro?
Mibro smartwatches are the latest and greatest in wearable technology. They offer a wide range of features, including fitness tracking, notifications, and even the ability to make phone calls. However, one question that often arises regarding Mibro smartwatches is what earbuds are compatible with them. After all, you don't want to invest in earbuds only to find out they aren't compatible with your new watch.
Fortunately, there are several options for earbuds that work seamlessly with Mibro smartwatches. One popular choice is the Samsung Galaxy Buds Pro, which offers impressive sound quality and noise-canceling technology. Another great option is the Jabra Elite 75t True Wireless Earbuds, which boast excellent sound quality and long battery life.
Why is Mibros more popular in Pakistan than other brands?
Mibro smartwatches and earbuds have become popular items in Pakistan. The reasons behind this popularity are numerous, but a few key factors contribute to their success. One of the most significant reasons is the affordability of Mibro products. Pakistani consumers prefer budget-friendly options, and Mibro delivers quality products at competitive prices on this front.
Another reason for Mibro's popularity is its sleek designs and features that cater to modern consumers. Their smartwatches offer fitness tracking, call functions, messaging capabilities, and more in one device. Similarly, their earbuds come with noise-canceling features and easy-to-use touch controls, making them a convenient option for everyday use.
Pakistani consumers rely heavily on recommendations from friends and family before purchasing.
What are the features of Mibro smartwatches and earbuds?
Mibro is a well-known brand that produces smartwatches and earbuds for people who want to stay connected on the go. Mibro smartwatches are designed with features that make them stand out from the competition. They come with a 1.4-inch display screen, which is large enough to display important information. You can see your messages, notifications, and other essential data without straining your eyes.
Mibro smartwatches have an impressive battery life of up to seven days, depending on usage patterns. They are water-resistant up to 50 meters, making them perfect for swimming or other water-based activities. The watches also have various fitness tracking features such as heart rate monitoring and step counting.
Mibro earbuds are another product line by the brand that has become quite popular among music lovers and sports enthusiasts.
What makes Micros different from other smartwatches?
Mibro smartwatches have taken the market by storm. Its advanced features and sleek design make it a favorite among tech enthusiasts. What sets Mibro apart from other smartwatches is its emphasis on integrating wearable technology into everyday life. The brand has ensured that its products cater to the needs of people who are always on the go.
One of the standout features of Mibro smartwatches is their earbud compatibility. This feature allows users to take calls and listen to music directly from their watch without carrying around an extra pair of earbuds or headphones. The earbuds can easily be connected to the watch via Bluetooth, making it a seamless user experience.
Mibro has been able to balance style and functionality with its smartwatches.
What are the benefits of using Mibro smartwatches and earbuds?
Mibro smartwatches and earbuds are innovative gadgets designed to make life easier and more enjoyable.
These devices offer many benefits that can improve your health, productivity, entertainment, and more. Here's what you need to know about the advantages of using Mibro smartwatches and earbuds.
Mibro smartwatches track your fitness activities, such as steps taken, calories burned, heart rate monitoring, etc., which makes it an excellent tool for individuals looking to stay healthy.
The watch also has different workout modes like walking, running, or swimming, which can help users achieve their fitness goals easily while keeping them motivated throughout the day.
It allows you to read text messages or answer phone calls on the go without taking out your phone from your pocket.
Applications: How can micro smartwatches and earbuds be used in daily life?
Mibro smartwatches and earbuds are becoming increasingly popular among technology enthusiasts who want to enhance their daily routines. These two devices can be used in various ways to help people stay connected, track their fitness goals, and even improve their mental health. This article will explore the various applications of Mibro smartwatches and earbuds in daily life.
When it comes to staying connected, Mibro smartwatches can be a game-changer. They allow you to receive notifications from your phone on your wrist without taking out your phone every time it vibrates or makes a sound. You can also make calls directly from your watch or send quick text messages without pulling out your phone. Additionally, some Mibro watches come with GPS tracking capabilities which is great for outdoor enthusiasts who want to track their hikes or runs accurately.
Conclusion:
Demand for Mibro smartwatches and earbuds in Pakistan is rising, and buyers are willing to pay a high price for these products. This shows that people are increasingly interested in technology and are looking for ways to stay connected and get the most out of their devices. As a result, brands that can provide quality products at affordable prices will continue to be popular in this market.