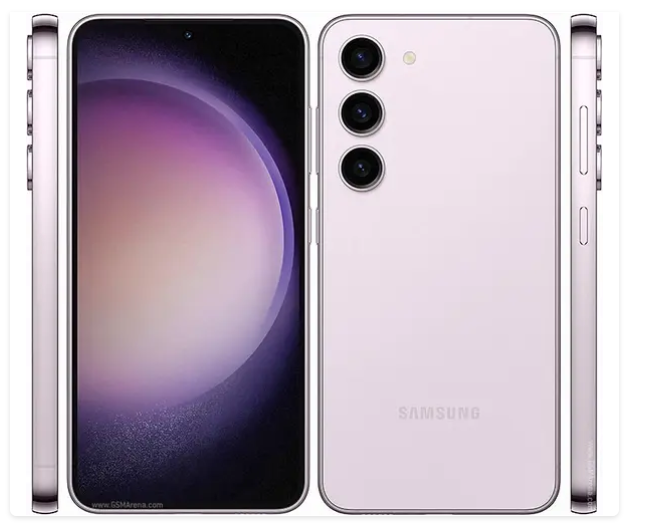 With the release of the Samsung Galaxy S23 FE, Samsung continues its heritage of providing outstanding smartphones for consumers of various types and financial situations. This gadget, which builds on the success of its forerunners, provides a compelling blend of features, performance, and price. To help you understand why the Samsung Galaxy S23 FE stands out in the mid-range smartphone market, we will examine its design, features, software, photography capabilities, and more in this in-depth study.
MAIN FEATURES OF Samsung Galaxy S23 FE:
DISPLAY FEATURES:
A dazzling 6.4-inch Super AMOLED display with Full HD+ resolution and HDR10+ support graces the Samsung Galaxy  S23 FE. This screen is a visual delight with its rich colours, intense blacks, and superb contrast. The display's quality is evident whether you're playing games, viewing videos, or browsing the internet.
Each pixel produces its light thanks to Samsung's acclaimed AMOLED technology, resulting in energy efficiency and vibrant images. By dynamically altering the refresh rate based on the content, the phone's adaptive refresh rate further improves the viewing experience while conserving battery life when high refresh rates are not required.
DESIGN AND BODY:
The Samsung Galaxy S23 FE has a slick and sophisticated appearance and adopts the design aesthetic of its more expensive siblings. It has a glass front and back with an aluminium frame, giving off a sense of solidity and refinement. You can choose from a variety of colour selections, such as traditional colours that never go out of style and lively hues.
The device's ergonomic form and small profile make it easy to hold and use with one hand, which speaks to Samsung's focus on the user experience. It also keeps its IP68 designation, which ensures dust and water resistance—a useful feature for the unavoidable spills and splashes of daily life.
PERFORMANCE:
The Galaxy S23 FE is driven by a competent processor that allows it to accomplish daily tasks and multitask with ease and speed. While it might not be able to compete with the best flagship processors, it manages to achieve a mix between power and efficiency, making sure that apps load swiftly and function without any delays.
To accommodate various usage patterns, there are plenty of RAM and storage options. There is a configuration that will meet your demands, whether you're an avid multitasker or a casual user.
CAMERA EFFECTS AND SETTINGS:
The Galaxy S23 FE's adaptable camera system is one of its most notable features. The main camera has a high-resolution sensor that can capture vivid, detailed images under a variety of lighting conditions. The enhanced results from Samsung's image processing algorithms make sure that your images are Instagram-ready with the least amount of work.
The gadget also comes with a variety of extra lenses, such as an ultra-wide-angle lens and a macro lens, allowing you to take creative photos and providing you the freedom to record a variety of scenes and subjects. The Galaxy S23 FE has you covered whether you're taking landscapes, close-ups, or group photos.
The phone enables 4K video recording, enabling you to easily make high-quality videos for individuals who appreciate capturing moments in motion. And for those who enjoy taking selfies, the front-facing camera produces clear, detailed images of themselves.
SOFTWARE AND FEATURES:
The Galaxy S23 FE has a user-friendly and feature-rich experience thanks to Samsung's One UI, which is developed on top of Android. With One UI, you have a tonne of customization choices at your disposal to make the phone fit your needs. It also has helpful features like Samsung DeX, which, when connected to a monitor or TV, turns your phone into a desktop-like experience.
Because of Samsung's dedication to software upgrades, your device is kept secure and up to date with the most recent improvements and security fixes. This ensures that you have access to the most recent features and advancements while also extending the lifespan of your device.
BATTERY LIFE OF GALAXY S23 FE:
For customers who are constantly on the go, a smartphone's battery life is essential. With moderate to heavy use, the Galaxy S23 FE's big battery easily lasts a full day. You can go about your day without worrying about charging all the time thanks to the efficient technology, software optimisations, and variable refresh rate.
The phone also supports rapid charging, so you can quickly top off your battery as necessary. When you're in a rush and in need of more power, this feature comes in extremely helpful.
CONNECTIVITY AND 5G:
With the Samsung Galaxy S23 FE, you can access lightning-quick download and upload speeds wherever 5G service is available. This guarantees that there will be less lag and waiting time when you stream, browse, and download content. For dependable connectivity in places without 5G coverage, the gadget naturally also offers 4G LTE.
PRICE OF SAMSUNG GALAXY S23 FE IN PAKISTAN:
Price for the Samsung Galaxy S23 FE is anticipated to be Rs. 204,999 in Pakistan. The Samsung Galaxy S23 FE is anticipated to go on sale on October 31, 2023. This Samsung model, which comes in a variety of colours and has 6 GB RAM and 128 GB of internal storage, is offered.
The Samsung Galaxy S23 FE is anticipated to cost Rs. 204,999 in Pakistan.
Samsung is anticipated to cost $925 in US dollars.
The Samsung Galaxy S23 FE is yet another superb smartphone in the S23 Series!
The Galaxy S23 series will be introduced by Samsung with a brand-new FE variation, which will be the entry-level model of this series and be outfitted with the most modern features and specifications.
CONCLUSION:
The Samsung Galaxy S23 FE is a prime example of Samsung's dedication to producing top-notch smartphones that are suitable for a variety of people. It provides a superb mid-range smartphone experience with its beautiful design, brilliant display, strong camera system, and effective performance. The Galaxy S23 FE has a lot to offer, whether of whether you're a casual user, a photography fanatic, or someone who values price without sacrificing functionality.
The Samsung Galaxy S23 FE is a fascinating option in the competitive mid-range smartphone market because it achieves the ideal balance between form and function in a world where technology is always advancing. It's a product that not only lives up to but frequently beyond users' expectations, demonstrating Samsung's commitment to innovation and user happiness.