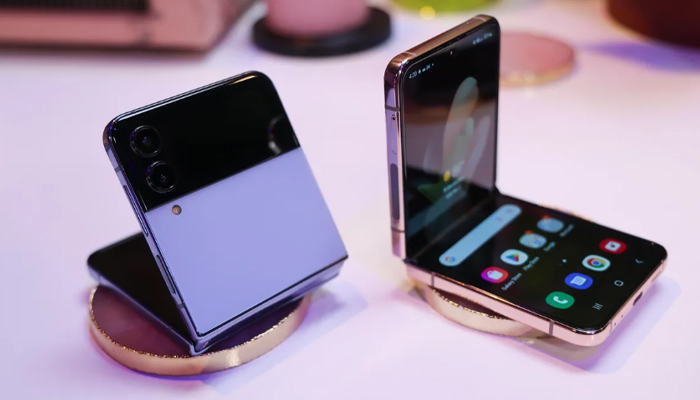 Samsung Galaxy Z Flip 4 Review: A Flip Smartphone
 If you're looking to purchase a new smartphone this year, today's article is the perfect place to start. This Samsung Galaxy Z Flip 4 review will help you decide if this phone is worth considering for your tech needs.
Design and Features
One of the best features of the Samsung Galaxy Z Flip is its design. It has a flip screen that allows you to use it as a normal phone or turn it into a tablet. This phone is perfect for people who want to use multiple devices at the same time.
The Samsung Galaxy Z Flip is also very affordable and has many features that other phones cost more for. It is perfect for people who want a low-cost phone with lots of features.
The Samsung Galaxy Z Flip 4 is not immediately distinguishable from the Galaxy Z Flip 3 from a distance. With the exception of the breadth and height, the phone's shape hasn't changed all that much. Due to this, the phone becomes surprisingly small when folded closed, although being quite chunky at 0.66 inches thick, and can sprawl out when opened to reveal a 6.7-inch display.
If the 1080 x 2640 Dynamic AMOLED 2X display with a refresh rate of 120 Hz, HDR10+ compatibility, and a peak brightness of 1200 nits seems a little familiar, that's because it is spec for spec the same as the display from the previous year. Without a doubt, it's attractive, especially when producing HDR images. The seam where the screen folds over is well-hidden by Samsung, but it does tend to stand out if the screen is dark or there is a lot of one colour covering the crease (such as a white background behind text).
The identical hole-punch selfie camera is located at the top of the screen. Two stereo speakers, one in the earpiece and one on the phone's bottom, surround the display.
The phone's power button, which also serves as a fingerprint scanner, and the volume buttons are located on the right edge. They are high up on the phone when it is folded open and difficult to reach without using two hands or an unnatural grip. That is merely one instance were using the phone regretfully requires two hands.
It's challenging to use the phone one-handed due to the aggressively tall screen (it has a 22:9 aspect ratio and is 4.4mm taller than an iPhone 13 Pro Max). The classic thumb-pry-and-flip of bygone flip phones is still doable, but it requires a bit more force than I'm comfortable with on a $1,000 phone made mostly of glass. Even unfolding the Galaxy Z Flip 4 is best done with two hands. I've yet to see a phone with any form of glass that won't break if it's thrown hard enough, even though Samsung moved to Gorilla Glass Victus+ on the outside of the device. As a result, Samsung must caution against applying excessive pressure with fingernails to the interior's ultra-thin glass.
Fortunately, the phone at least claims to be water resistant. Its IPX8 classification indicates that it can endure full submersion, albeit there are cracks in the frame where it might take some time for water to completely evaporate out. It's strange that Samsung would refer to the Z Flip 4 as "the only water-resistant foldable smartphone" given the Z Flip 3 from the previous year also had an IPX8 rating.
The 1.9-inch, 260×512 Super AMOLED cover display is still there on the Z Flip 4. This gives quick access to the time and date, the current weather, timers, contacts, and music playback. Although semi-customizable, the options are less than what a smartwatch would offer. Notifications may also be shown on the cover display, but its biggest feature is that it can be used as a viewfinder for snapping selfies with the two rear cameras that are placed right next to it.
The Z Flip 4 supports wireless charging and reverse wireless charging, and Samsung offers up to 25W fast-charging (up from the 15W of the Z Flip 3), albeit it might need a specialized Samsung charger that isn't included in the box.
Software
The Galaxy Z Flip 4 runs Android 12 out of the box, which is an odd omission from the phone's web specifications. With One UI 4.1.1 on top, the phone continues to seem more like a Samsung product and less like a member of the Pixel 6 line. Samsung keeps its launcher narrowly focused and offers lots of tools and ways to customise it without bombarding me with all of its features. I particularly like that the quick settings menu doesn't follow the new Pixel 6 design, which shows less and necessitates more time and effort to complete tasks, and instead keeps displaying more options and information all at once.
For the phone's folded states, there are a few extras. As previously observed, surprisingly few widgets are added to the external display. Additionally, the phone offers a unique split-screen mode that can be used when it is partially folded. However, I've only ever seen it offer a tiny space below the active window for a button for the notification shade, screenshots, brightness, and volume settings, as well as one to toggle a touchpad zone that brings a mouse pointer onto the screen – for what? I can only speculate. It has an unfunny similarity to using the smallest laptop in the world.
Gaming and Performance
While the Samsung Galaxy Z Flip 4 may prioritise style over other, more utilitarian features, power is still a consideration. The phone's 8GB of RAM and Snapdragon 8+ Gen1 processor are more than capable of handling daily tasks, keeping the phone feeling responsive even with a 120Hz refresh rate. The phone maintained its cool even when playing GeForce Now games for an hour. It has sufficient power to support local gaming as well.
The 3,700mAh battery in the phone has proven to be more than enough to last the full day, especially if I check notifications on the external display rather than turning on the internal display for every text message I receive.
The phone's initial storage capacity is 128GB, but upgrades to 256GB or even 512GB are available, allowing users a wide range of options to meet their demands. Users who don't shoot a lot of videos will probably be fine with 128GB, but greater capacity options can accommodate more before you need to offload to an external storage device.
The 5G connectivity performed admirably, generally receiving and transmitting data faster than my Galaxy S20, which was connected to the same network. New modems, different antennas, and band support can all offer a significant upgrade that isn't noted on the spec sheet, although there have been some noticeable advancements in this area.
 Camera
The Galaxy Z Flip 4 cameras are virtually the same as the one from the previous year, but that's not the worst news. Those cameras were carrying their weight, and they can still do so this time. The main wide-angle sensor's pixels were increased from 1.4 microns to 1.8 microns, which means they can now capture more light. This is the sole significant change.
The camera configuration on the Galaxy Z Flip 4 is as follows:
OIS, 1.8-micron pixels, and 12MP wide at f/1.8
1.12-micron pixels in a 12MP, 123-degree ultra-wide lens at f/2.2
Selfie camera with 10MP, f/2.4, and 1.22-micron pixels
The Pixel 6 Pro, Galaxy S22 Ultra, or iPhone 13 Pro Max may all have magical cameras, but these ones aren't. It is unable to capture sharp detail at a 10x telephoto magnification and cannot produce a viewable image out of complete darkness. But what it can do is capture what you see in a vibrant colour scheme with some remarkable clarity.
In strong lighting, the Galaxy Z Flip 4 captures a lot of detail, and it keeps up well as the scene becomes more overcast and dims. It is moody in the dark, which slightly offsets the little blur brought on by its prolonged exposure periods.
Although it's easily outperformed by normal smartphones that priorities photography above fold-ography, the Galaxy Z Flip 4 is still a good option for day-to-day shooting.
Battery and charging
Given that the Z Flip 3's battery life was one of its major flaws, it makes reasonable that Samsung has made improvements. One difference is the larger battery, which is 3700mAh instead of the Flip 3's 3300mAh.
That may not sound like much, but when combined with the 8+ Gen 1's increased power-efficiency, it should be a respectable improvement. According to Samsung, the Flip 3 has seen an average three hour less usage time than the 8+ Gen 1, with one tester managing to use the phone for a whole 36 hours. That is supported by slight upgrades to charging, which go from 15W to 25W. Of course, wireless charging is also back.
Conclusion
The Samsung Galaxy Z Flip is a well-made and affordable phone that offers some good features, but it isn't perfect. If you're looking for a budget Android phone that can flip open to become a powerful tablet, the Galaxy Z Flip should be at the top of your list. However, if you want a phone that can do more than just flip open, the Galaxy S6 or even the iPhone 6 might be better options.